J&E Hall Cellar Cooling manual – 7 Free Downloads and Share
This collection of J&E Hall Cellar Cooling manual brochures are manufacturers originals for reference. They are available to download for your website and the benefit of others and/or to share. The J&E Hall Cellar Cooler range reference is denoted by the internal unit then the external condensing unit. Therefore JCC2 25E/J5LC15C (E for Electronic Controller) – C for external condensing unit). There are 4 widely recognised systems from J&E Hall and asides from the JCC2 25E/J5LC15C. These further three units being the JCC2 40E/J5LC20C, JCC2 50E/J5LC25C and the JCC2 60E/J5LC28C. Respectively, for cellar cooling use, these are rated nominally at 2.87kw, 4.31kw, 4.78kw and 5.82Kw. The systems cover up to a maximum cubic area of 72 above ground and 130 below ground (refer J&E Hall cellar cooling manual).
More recently 3 new twin systems have been added to complement and expand the cellar cooler range. The new J&E Hall Cellar Cooling manual for the Twin Cellar+ systems is also posted herewith. The three new additions offer low GWP options and longer pipe runs. The new Twin Cellar+ systems offer increased capacity up to 145m³ above ground and 210m³ below ground. The Twin Cellar+ systems utilise a larger capacity condensing unit with a Copeland scroll compressor coupled to 2 x evaporators.  The configurations are as follows: Cellar Plus 70-T1/T3 (2x) JCC2-40E / BSCU-30-M1/M3 (7.5KWs), Cellar Plus 80-T1/T3 (2x) JCC2-50E / BSCU-35-M1/M3 (8.4Kws), Cellar Plus 90-T1/T3 (2x) JCC2-60E / BSCU-40-M1/M3 (9.6KWs).
J&E Hall Cellar Cooling manual troubleshooting
J&E Hall have a rich, varied and long history dating back to it's inception in 1785. Early on J&E Hall were involved with foundry based engineering but diversified with the times. Adapting from heavy engineering to refrigeration to goods lifts and elevators and vehicles. The company secured a licence in 1906 to manufacture bus, lorry and HGV chassis. Naming their vehicles 'Hallfords', thereafter an engine of J&E Hall design saw production in 1911. The chassis and design were a success and used by London buses along with leading brewers and haulage contractors. The last Hallford lorry was sold in 1926.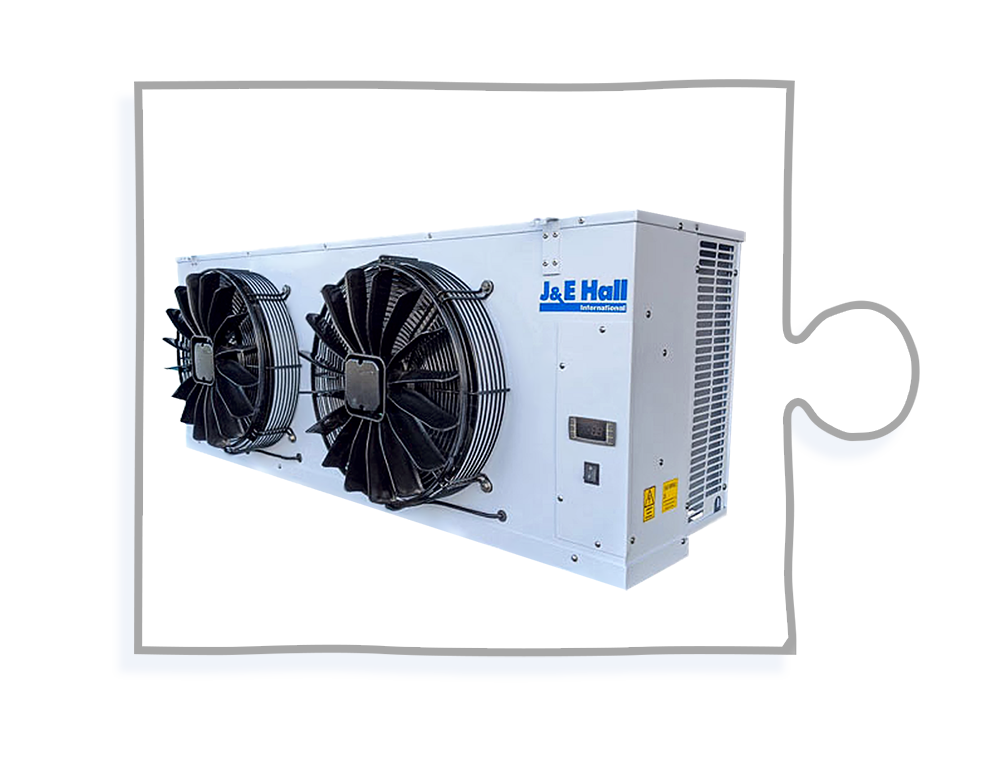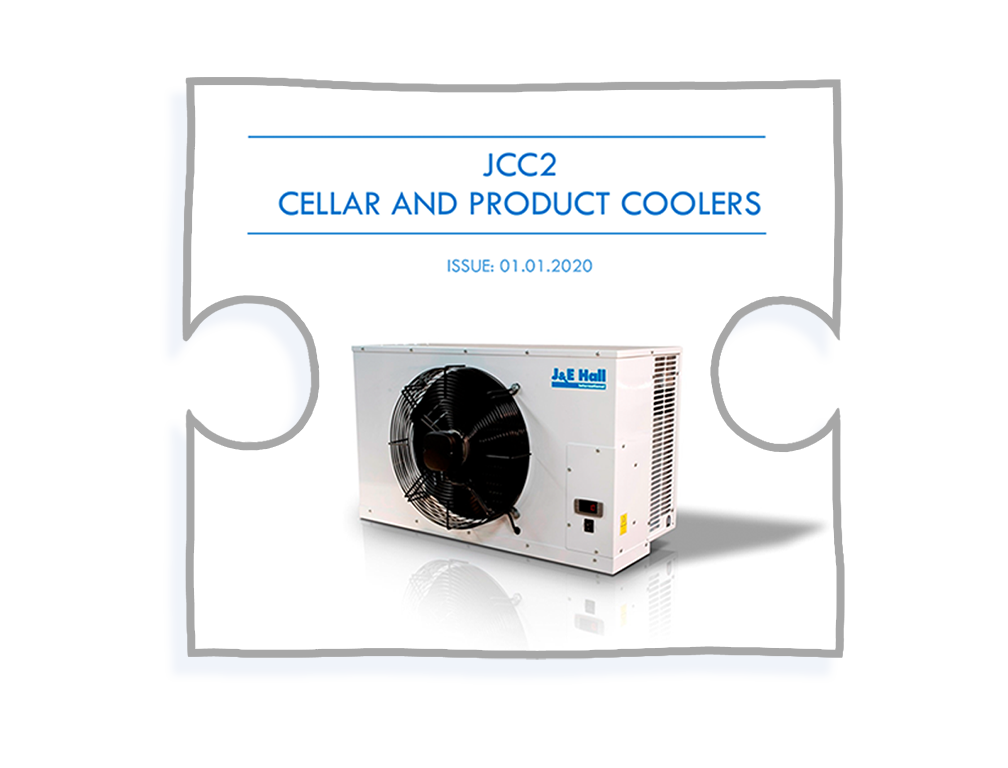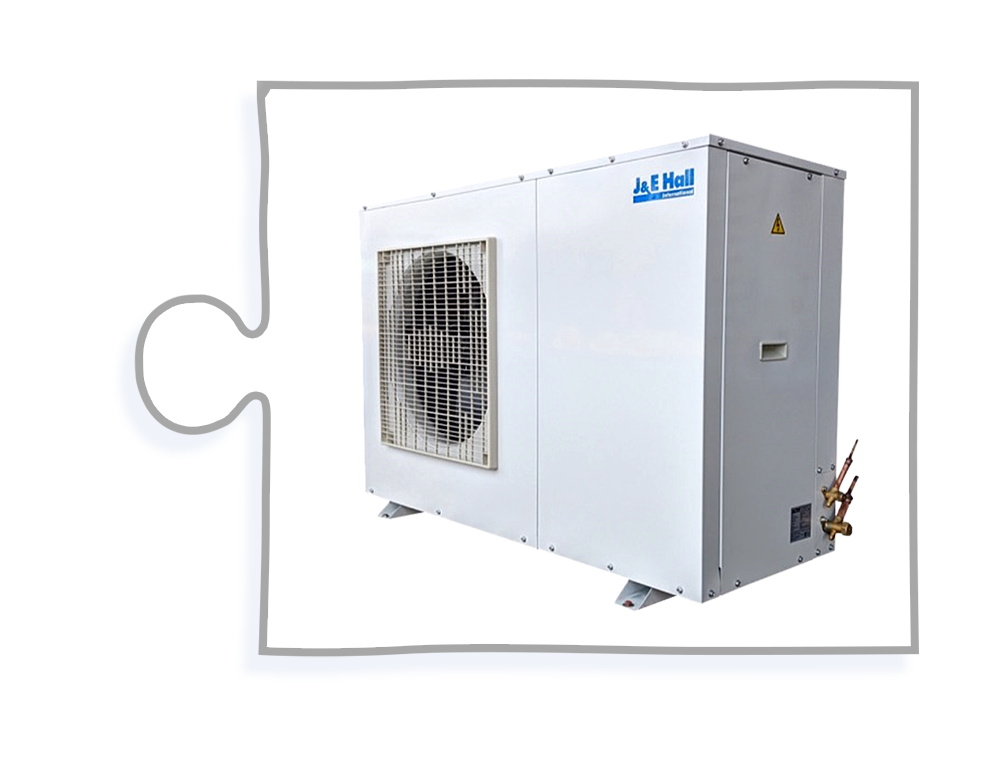 Britain, towards the end of the Edwardian era, was one of the largest food importers in the world. Mutton, lamb and beef were imported from Mexico, Argentina, Portugal and Italy. More than 6 million frozen rabbits were imported from Australia in 1903. A nutritional source of meat in Europe yet seen as a pest in Australia. Refrigerated (CO2) and insulated holds were integral to fleets of cargo vessels. Halls had already experimented with soft fruits and apples. The refrigerated holds were complemented by vast cold rooms installed at docks. The CO2 refrigeration systems also served hotels, London hospitals and breweries. Brewers would use the systems for cooling beers prior to bottling and the control of fermenting rooms.
The addition of Ammonia in 1910 proved hugely popular with endless business applications and opportunities. In this year the company employed 850 people. The brewing industry embraced the high speed vertical enclosed ammonia chiller introduced by Halls in 1922. In the mid 1920s Halls branched in to goods and passenger lifts and acquired the Medway Safety Lift Co. Their lifts were installed in offices, colleges, hotels, civic buildings and Royal Navy ships during the war. As well as producing (under licence) 'moving staircases' in the great depression (1931) lifts were also installed in Selfridges and Harrods. Production of escalators continued in to the 60s. Profits fell dramatically in the early 60's following a merger in 1959. Subsidiary firms were liquidated and the foundry closed.
Halls then focused, in 1968, solely on the manufacture of air conditioning and small refrigeration units. A range of automatic compressors followed with Methyl Carbide as the medium (refrigerant). Following a major re construction in the 1970's business improved and in 1981 Halls became part of the APV Group. This opened up major business avenues and in 1984 APV Hall received the Queen's award to industry. This, in recognition, for the development of the Hallscrew single refrigeration compressor. Halls were also very much at the forefront of staff welfare. Moreover at a time when it was not uncommon for 3 generations to be employed by the same employer.
A non  contributory benefit fund was also designed for past employees. This fund catered for deceased employees, orphans and widows. Halls also secured the services of a registered nurse to attend families of employees in times of sickness. Furthermore every employee benefited from holiday/Christmas bonuses. Following the end of the 1st world war J&E Hall bought land at Darenth Road for a Social and Athletic Club. The company also purchased land for 120 homes, the first 24 houses built known as 'Hallford Village'; some rented to employees of the company. The bulk of the estate was sold on in 1933. A number of properties held back for employees.